Criteria
We are looking for companies and individuals with new ideas. While we specialize in the animal health industry, our goal is to help bring any quality innovation to market, regardless of the industry. We aim to identify and nurture excellent ideas that can both advance the animal health industry, and also encourage growth in the St. Joseph area. Here's how to get started.
Current Tenants
United States Animal Health Association (USAHA)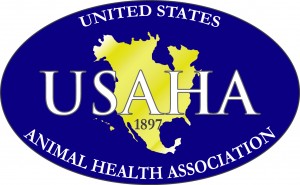 Strives to be the leading forum for animal health issues in the United States, promoting active participation from industry, academia, and government. USAHA provides a national venue for stakeholders to identify the most effective methods to protect and improve animal health and welfare and public health. USAHA's mission is to develop and promote sound animal health solutions for the public good.
New Functional Polymers, LLC

Devoted to research and development of novel polymeric materials with unique functional properties for plastics, coatings, adhesives, ink, and flocculants. With more than 30 years of expertise in the synthesis of organic polymers, we are particularly interested in new monomers and polymers and their efficient synthesis techniques.
Testimonials
The Innovation Stockyard is the perfect environment for a start-up company. The incubator features benefits and services through skilled resource personnel to help small businesses be successful. Clients of the incubator can glean assistance with business plan development and human resource questions, as well as an interface to student assistance and interns from Missouri Western State University. This location in the heart of the Midwest has ties to agribusiness and grass roots producers to help agriculturally-related companies be successful. St. Joseph provides close proximity to KCI for business interactions across the country. More importantly, the St. Joseph community offers excellent resources for start-up companies of any size.
—Sally L. Northcutt, Ph.D., Method Genetics LLC
We needed to become USDA-certified to open our business into new markets. Innovation Stockyard helped us to prepare and submit a HACCP plan, along with all of the other documentation we needed, working through all the complicated USDA requirements and regulations. They worked one-on-one with us to develop the plans we needed, and get our questions answered by the agency. Their level of commitment to helping our small business grow was wonderful.
—Todd Schulte, Owner, Uncommon Stock
Innovation Stockyard has been very responsive to our needs. Whenever we have a question, they answer immediately. They've proactively helped us to organize a business plan, prioritize our budgetary needs, and frame how to discuss our products with customers. For a start-up like us, their helpfulness is refreshing.
—Brad White, DVM, MS, CEO, Precision Animal Solutions
Innovation Stockyard has provided me with lab space, instrumentation, office equipment, and more importantly, business coaching and connections to key business people and funding. Now I can focus on my business ideas without concern or worry. The staff is fantastic—very friendly and they treat me like family—they even had a celebration party for me when I received my first patent! Innovation Stockyard acts as a personal advisor to my business.
—Hui Yu, President, New Functional Polymers